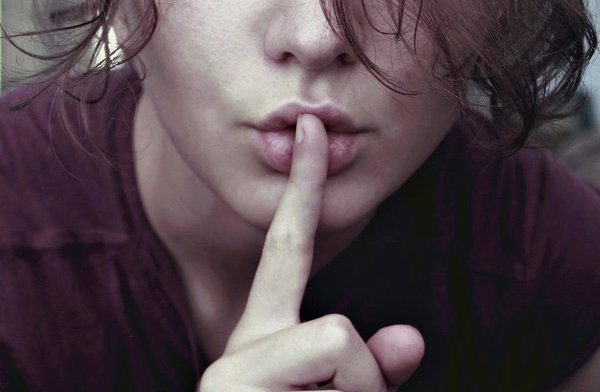 18 Aug

The Truth About Secrets
How many times have you heard the phrase, "Please, just tell me the truth!" 
But what if the truth is bad? Hurtful? Life-altering?
When you ask someone to "TELL YOU THE TRUTH" you must be prepared for them to TELL YOU THE TRUTH.
In my ministry, many are living with secrets and have never told their loved ones the truth.
A wife that was sexually hurt by her father, grows up and gets married. In her marriage, she HATES sex and intimacy. She can't stand the idea of being touched because every time she feels her husband's hands on her, she sees "him" and can't bare the memories, the fear or the pain of what that touch represents to her.
The husband is hurt. He feels rejected. He feels like his wife doesn't want him. He withdraws. He turns to other things because he's frustrated and angry. They drift apart. He blames himself. She blames herself.  
But…she has NEVER told her husband the TRUTH. She chooses to KEEP the secret rather than TELL THE TRUTH.  She thinks the pain of telling the truth is going to be greater than the pain and shame of the secret. 
Most people would rather live in the denial of the secret. It seems easier to NOT DEAL with it and pretend it's not there.
The truth can be painful. It can be discouraging. But it's always the best choice.
Secrets are lethal. They are poisonous. They are deadly.
Secrets are the delight and thrill of satan. If he can trick us into keeping the secrets that would bring light, truth and healing into our lives, then we are separated from the Lord and he LOVES that. It's his #1 goal. I think of the moment that Adam and Eve "gained" the knowledge of good and evil. I think of that moment that they "hid" from God and were ashamed. They had a SECRET. I can see the evil smile as it spreads across the face of satan. A smile that was truly motivated by knowing that humans had now become separated from a Holy God because of sin. When I think about secrets, I see that same evil smile that has taken such joy in "separating us" from our God. How much HATRED does one have to have in order to WANT to separate man from God? 
SECRETS are bad. When we keep the secrets, darkness prevails and fear resides. Shame and guilt are the "norm." Each of us humans, have our own CRUD. Because of our crud, most people will choose to pretend it doesn't exist because they convince themselves that it's much harder to deal with the pain of the crud. In our warped "fear-induced" way, it's easier to hold on to it. We believe it will be better to keep the secret and not deal with the crud then to tell the truth.
A woman wrote to me and told me that she finally told her mother the truth, after years of keeping the secret, that she was raped by a family member. Her mother told her "It's been a long time now. Sometimes people do bad things but don't really mean them. It's best to not open this can of worms! What will the family think of us, if we accuse him of doing that to you?"
That mother was suppose to listen and hear her daughter's story. Instead she was ashamed and didn't want to confront any of the family because it could get messy and uncomfortable. That rejection threw this young woman into a life of doubting herself, horrible decisions, loneliness and anger. She then chose to KEEP THE SECRET rather then rock the boat. It wasn't until later that she read my story and the Lord told her that keeping the secret was hurting her and that she was CHOOSING to live a lie. She said, "I didn't realize how FREE I'd feel once the truth was out." 
If you are a loved one that has a relationship with someone that has kept a secret, sometimes YOU would rather that the secret be kept forever. It might be uncomfortable to hold that secret, but at least it's familiar instead of the unknown. 
It's the SHOT mentality.
I hate to get shots. HATE. IT. I know that if I do not get shots, I could be at serious risk to my health. So the days that I know I have to go in and get my shot, I feel sick to my stomach. I sweat. I shake. I have this feeling of fear and dread. I try to think of ways to cancel my appointment. I've even been tempted to lie to get out of it. I force myself to go in to the office and get the shot. As the nurse is preparing, I literally feel like I'm going to faint. The blood drains from my head and my heart is pounding. I don't even THINK about looking at where the needle is going into my arm. That would be catastrophic. I'm thinking, "what is taking so long…can't they hurry up…I'm dying here." Then the nurse says, "Have a great week, Sonya." And I'm like, she's done??? WHAT?
The shot was not nearly as HARD to deal with as I had TOLD myself that it would be.
And this is TRUE about DEALING WITH YOUR CRUD. The damage that will come from NOT dealing with it, is WORSE then telling the truth and dealing with your crud.  
So the wife finally gets the courage to TELL THE TRUTH, and when she does, the husband completely loses it and becomes enraged. He feels like she didnt trust him enough to tell her secret and so he shuts down. He is so distracted by that anger and hurt that he doesn't truly listen. Instead, of listening and hearing her heart, he just wants to "FIX IT" to "FIX HER" so that her problem will be solved. Because he gets angry, the wife shuts down and becomes hurt and bitter at his reaction. She immediately feels like he can't be trusted with her heart and she decides right then that the SECRET WOULD HAVE BEEN BETTER KEPT THEN the TRUTH.
And the evil smile of satan spreads across his face. 
We cannot be afraid of the truth. Why? Because Jesus IS the truth.
Jesus is the ONLY truth we have. EVERYTHING about Jesus is TRUTH. There is no lie, no darkness, no sin in Him. Everything else is tainted by the sin of the world. The only truth we can count on and believe in is JESUS CHRIST and His word (the bible). This might feel discouraging to some of you. You might even feel tempted to give up hope in light of "the lack of truth" all around us. But I have some HOPE or you. Jesus has some pretty powerful things to say about TRUTH. Let His truth penetrate deep into your heart. 
"I have come into the world as a light, so that no one who believes in me should STAY in darkness." John 12:46
"The light shines in the darkness, and the darkness can NEVER extinguish it." John 1:5
"And you will know the truth, and the truth will set you free." John 8:32
And listen to this BE

AUTIFUL

declaration.
"Lead me by your truth and teach me, for you are the God who saves me. All day long I put my hope in you." Psalm 25:5
If you are a loved one and you find yourself in a relationship that someone is keeping a secret…ask yourself if YOU have enabled that secret to continue because of your own CRUD. Have you avoided the truth? Have you been in denial? Have you wanted them to keep the secret so that you wouldn't have to deal with the truth and what that truth could mean to you, your life, your choices, your past, your future?
If you are asking them to reveal that truth to you, You as the loved one, must be READY to listen and hear the truth when you ask them for it and they tell you the truth.
SECRETS have NO POWER over Jesus Christ. Trust Jesus in all things. If you've been keeping a secret from the ones you love, TELL THE TRUTH. Don't give the enemy any power over your life. Don't believe his lies. Tell the truth. If you are on the receiving end of that truth, listen to the truth and hear the truth. Jesus can handle anything. He can do anything. He can forgive anything. He can restore anything. You just have to believe and in faith TELL THE TRUTH.
And one more thought…
You may tell the truth and finally share your secret…and the person you tell, might not receive it in a supportive or healthy way. Do not let that stop you from doing what is healthy and right for you to do. 
You know what I always say….You can't control what others do. But you CAN control how YOU respond. 
You do the right thing. No matter what. Then you trust Jesus for the results. 
"And you will know the truth, and the truth will set you free." John 8:32