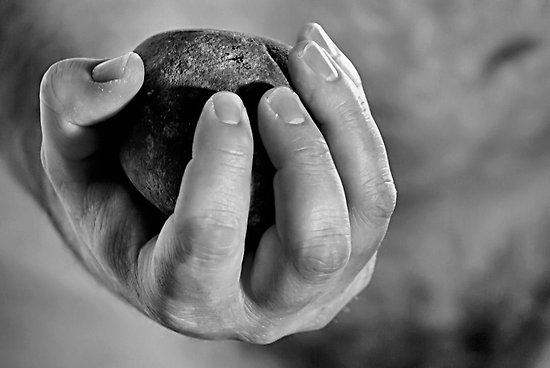 22 Jun

Rocks are rocks. People are People.
"We are pressured in every way but not crushed; we are perplexed but not in despair; we are persecuted but not abandoned; we are struck down but not destroyed"
2 Corinthians 4:8-9
I like rocks.
Every time I go somewhere, I try to get a rock to take home with me.
When you scan a pile of rocks, at first glance they all look the same. Upon closer examination, they are totally different. Throughout time, the rocks have been crushed and broken, heated and frozen, shifted and tossed. I wonder "what have they been through? How did they get here?"
I've NEVER been able to find two rocks that are the same. Some are beautiful. Some shine and sparkle. Some are dull and dirty. Some are smooth. Some are jagged with sharp edges. Unique and special because of how they've been squeezed and pressed.
As many of you know, I recently visited my childhood home where all the violence happened to me as a kid. My intention was to do a "video diary" to share the experience of going back to that place after 34 years.
It was a powerful time of worship and 'crud dealing' and hope. As I was recording my thoughts I happened to glance down at this broken sidewalk that I walked many times trying to escape my pain.
I looked down and saw a shiny sparkle coming from the broken crack.
As I stood there looking at the rock that was shining so brightly in the midst of that broken concrete, I felt just like that rock. Jagged and sharp. Rough around some of the edges. But there was a smoothness to certain parts of that rock as if it had felt the wearing pressure of brutal elements. Man, do I know how it feels.
I was beaten almost every day. I was burned with curling irons. I had my hair ripped out of my head so that I would look more like a boy so that men wouldn't "look" at me. I was starved. My birth mother…the one who should have loved me the most in this world didn't love me. Couldn't love me. She was broken inside and didn't have hope. What had happened to her in her life?
She was like the rock, too.
I looked at the rock in my hand, remembering the rape and violence that went on day after day, being stripped naked, being forced to do things sexually to a man, the violation of my little body, the threats of beatings to my mother, the psychological torture of him holding a knife in my hand while he cut off the head of my favorite stuffed animal and then raped me with it…because I tried to hide from him under my bed. What was his story? What made him do this? Yep. He was another rock, too.
Over and over the message was "You aren't worth anything. This is all there is. This is who you are. You will never be more." Unbelievable pressure – pressing and crushing down, chiseling the edges cutting, sharpening and wearing me smooth in some places, jagged in others. 
Rocks, rocks and more rocks.
People are like rocks.
Unique and special because of how they've been squeezed and pressed. Every day we pass by people that have been crushed and broken by life. Some are worn down and some have jagged edges cut out by the struggles of sin in this world. And some, though they've been pressed and tossed, just sparkle with a light that can never be put out. Who knows what they had to endure? Who knows what they had to face or why they look the way they do? Who knows what they've been through to get to where they are today? 
This is the one constant throughout all of time…
All rocks had to go through SOMETHING to get to where they are today.
And then the Lord hit me with this truth.
People – you, me – ALL people 
– have been through SOMETHING to get to where they are today.
That's the common denominator in all of us! This is the thread that ties ALL of us together as human beings! Young. Old. Rich. Poor. Short. Tall. Fat. Skinny. Nice. Mean. Saved. Lost. 
ALL ROCKS are ROCKS. ALL PEOPLE are PEOPLE.
We never know what they're story is…until we truly look and then ask. That means you are going to have to ENGAGE people. God has given you and you alone, a unique opportunity to be around countless people in this world as you go about your own life story. Don't just "pass them by". Stop. Take a closer look. Ask questions. Share your story. Share Jesus with people that need to know there is hope. People need to know that they can be forgiven. People need to know that Jesus loves them.
You might be feeling like you've been crushed and forgotten in the pile of all the other countless rocks.
 
Maybe you take great comfort in hiding in the pile so that other's won't "see" and know that you are hurting. 
Maybe your edges are jagged and you use those edges to cut people when they try to get close.
Maybe you're tired – worn down smooth with no signs of life. Maybe you've given up.
Whatever you've been through, the truth is we've ALL been through SOMETHING. That's called CRUD. Guilt, shame, blame, anger, denial, hatred, and fear are the jagged edges that make up our rocky stinkin' crud. It must be dealt with. You can't ignore it.
And if you have crud that you've never dealt with, DEAL with your CRUD.
Don't let sin, pain, or hurt hold you back from the life that Jesus has planned for you. 
I've had a lot of hurt and disappointment in my life. But I've had LOTS of love and support and good experiences, too. I'm not the girl I used to be. That WASN'T all there was. 
But because of Jesus, I sparkle!
It's one of my favorite things that He has done in my life. 
Oh that we would see PEOPLE as Jesus does. Oh that we could love PEOPLE the way that Jesus does. Celebrating our differences and what it took to get us to where we are now and loving each other through the "pressing and crushing" of all things called LIFE. Jagged or smooth and everything in between.
All rocks are rocks.
And people are people.
"We are pressured in every way but not crushed; we are perplexed but not in despair; we are persecuted but not abandoned; we are struck down but not destroyed"
2 Corinthians 4:8-9
COMING SOON! Look for the upcoming video – "The Apartment" a video diary of the journey back to where all the hurt and abuse happened but how Jesus changed everything! – www.sonyabrunner.com